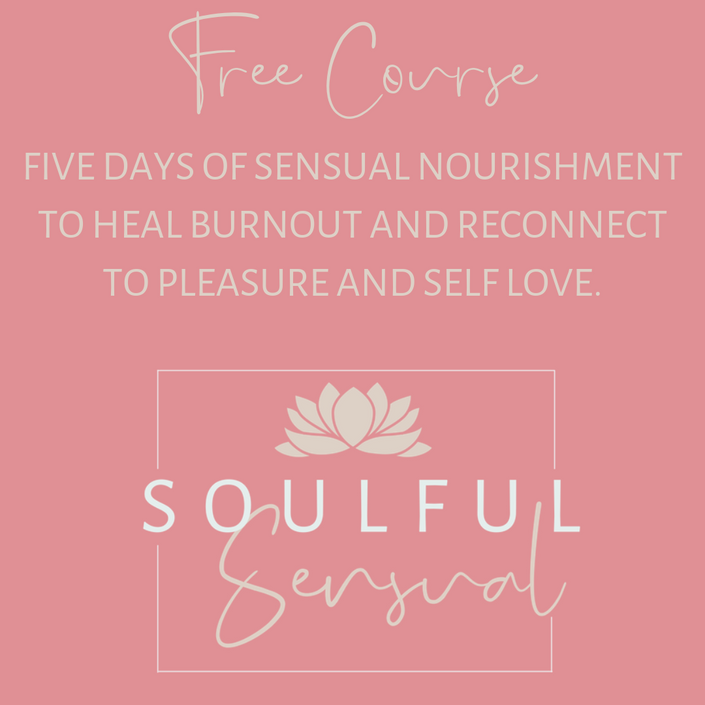 5 Days of Soulful + Sensual Healing
Your Most Vibrant, Turned-on Life Begins Now!
Sometimes you need a break....
A time to turn inward and reflect, to let go of all the "shoulds" and simply just "be". Like the natural world, you also have seasons. You're a cyclical Being, flowing in and out of expansion and rest over and over again.
I've created this free 5 Day journey of sensual self care that will help you to nourish and soothe your nervous system. It's a collection of my favourite healing practices that will leave you feeling balanced, grounded, grateful, and full of love.
When the going gets tough… the tough, breathe and meditate!
Sign up today!
There's something that happens when Soulful women, like you, catch the personal development bug.
It seems we have to start fixing ALL the things.
We've got to:
drink more water
go all organic, all vegan and ditch sugar (better yet, you should probably do a juice cleanse)
read every personal development book you can get your hands on, AND listen to all the podcasts
do more yoga
hire a coach
start exercising more
go barefoot in nature
heal the mother wound
go to a women's circle
meditate
network
share it all on social media
did you ditch all of the chemicals in your home yet?
do an energetic cleanse.... of EVERYTHING
cut all the cords
see a psychic (make sure all the cords are really cut)
learn Reiki
write in your journal
pull cards daily
repeat your affirmations
engage
Wash, Rinse, Repeat.
The path of personal development can be exhausting.
Do you really need to do it all to prove to yourself that you're worth of the love, belonging and success you crave?
What if you just showed up for yourself? Fully.
No bells and whistles. Just your body, your heart, and your soul.

As a coach, teacher and guide - a big part of my work is to support you on your path of personal development, healing, and sensual awakening. What I've noticed again and again is that when women come to work with me, what they need more than anything is to slow down and heal their nervous system.
The truth is: all of the expectations you're trying to live up to (your own, and everyone else's) are causing you to feel burned out, tired, stressed, fatigued and/or anxious.
This is why I've created this free 5 day course.
The Soulful + Sensual Healing Journey is your invitation to take a break from all of the expectations so that you can connect back into who you are which will help you to see that you're already whole, you've got everything you need, and you're deeply supported in your life.
When you know, deep in your soul, that you're able to resource everything you need without having to look externally for validation of your worth and value you'll be able to approach challenges and big dreams with a renewed confidence and trust in your ability to persevere.
You'll also know how to slow down, relax and stay balanced. This is a KEY awareness for ambitious women who want to live their lives to the fullest! Burnout is real. Adrenal Fatigue is real. Knowing how and when to restore your body while you go after your desires will ensure that you're always showing up 100% for everything in your life - including yourself.
This course is for you if:
You're feeling burned out, at all
You tend to overwork, and under rest
You want to learn how to self source nourishment and relaxation
You're ready to slow down
You need a break
You're constantly on the go - and you're not comfortable with stillness or resting
You want some new ways to rest, ground and nourish your body and your mind
Your Soul is whispering, "yes" right now
You love free things!
This course isn't for you if:
You're not willing to take 5 days to slow down and stop doing so much
You still believe that hard work and hustle are how you'll be successful in your life
You refuse to listen to your body's cues to slow down
You don't think you need a break every once in a while
You have no intention of slowing down until you've reached all of your goals
Course Curriculum
Welcome - How to Prepare
Available in days
days after you enroll
Day #1 - Womb Healing
Available in days
days after you enroll
Day #2 - Ovarian Breathing
Available in days
days after you enroll
Your Instructor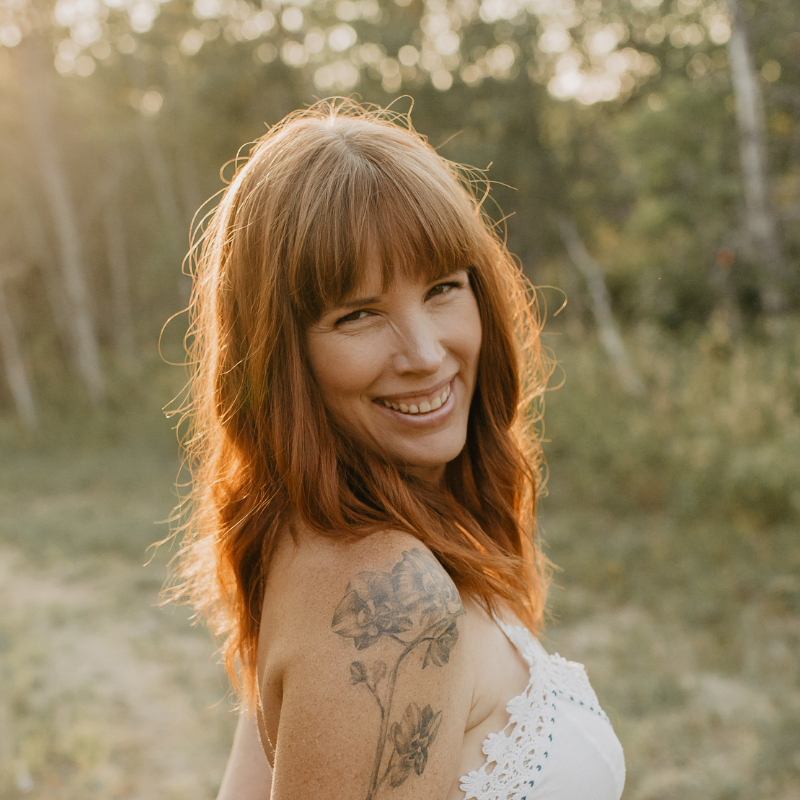 Robin Hilton is, well, a lot of things: entrepreneur, yoga studio owner, coach, photographer, teacher, facilitator. But her work and passions always come back to an invitation for women to recognize all the magic there is in the world and within themselves.
Born and raised on the Canadian prairies, Robin has settled in Indian Head, Saskatchewan with her husband and three daughters. Thanks to the power of online business, she can use her intuition and intense curiosity to work with women around the world and closer to home. Whether she is taking photos, planning events, teaching tantra or facilitating sessions, Robin is thrilled to offer women a supportive space to connect and thrive in sisterhood and love. You can keep up with Robin's ever-expanding work at www.robinjoy.ca.